---
For millions of people, the road is an extension of their office. With remarkable advancements in mobile technology, it's become easier than ever to stay connected to clients or the home office. However, it can be extremely dangerous if you or your employees are driving distracted.

Businesses that have employees who travel should have a distracted driving policy in place.
It's estimated that nearly 75% of companies have a policy in place. Do you?
Here are some key guidelines to help revamp a policy or implement a new one.
---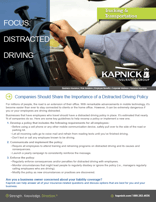 Yes I want to download the full document.
Get it now!

---
1. Develop a policy that includes the following requirements for all employees:
• Before using a cell phone or any other mobile communication device, safely pull over to the side of the road or
parking lot.
• Let all incoming calls go to voice mail and refrain from reading texts until you've finished driving.
• Don't text or call any employee known to be driving.

2. Communicate and implement the policy:
• Require all employees to attend training and retraining programs on distracted driving and its causes and
consequences.
• Launch a yearly campaign to consistently reinforce the message.

3. Enforce the policy:
• Regularly enforce consequences and/or penalties for distracted driving with employees.
• Monitor circumstances that might lead people to regularly disobey or ignore the policy (i.e., managers regularly
calling employees who are driving).
• Modify the policy as new circumstances or practices are discovered.


Have you ever wondered how many people aren't watching the road while driving?
Take a look at this brief eye-opening video - The Hazards of Distracted Driving
---
Talk to your trusted Kapnick insurance representative today to get started on building your Distracted Driving Policy
Talk with a specialist today!
888.263.4656 x1146 Mark Arbaugh | Client Executive
---