---
As the temperatures plummet, the risk of freezing pipes in fire protection sprinkler systems increases sharply. Here's why. When the water inside the pipes freezes, it expands and pushes against the walls of the pipe causing enough force to rupture them.
By following a few simple steps, you can help prevent water damage and costly repairs that burst pipes can cause.
---
1. Get your system inspected by a qualified fire protection provider. Autom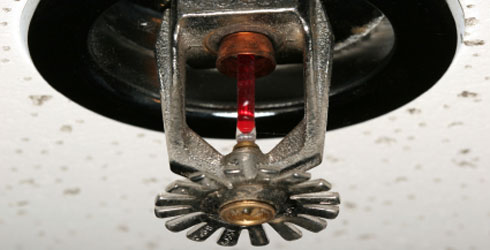 atic sprinkler components are required to be inspected annually, semi-annually, quarterly, or monthly in accordance with National Fire Protection Association (NFPA) 25.

2. If your wet sprinkler system contains an antifreeze solution, samples should be tested at multiple points throughout the freezing season to verify that the solution hasn't weakened.

3. Keep cold air out. Be on the lookout for areas in your building that could let cold air in and increase your risk of freezing pipes. Broken windows, poor insulation, cracked walls, and exposed roof areas are just a few examples.

4. Regulate the temperature. Areas with sprinkler piping should be above 40 degrees Fahrenheit at all times. Remember, it's important to act fast if an issue occurs with your sprinkler system. It could mean the difference between a small concern and a major problem.


---
Honest Answers. Trusted Advice.
From sprinkler system safety to suitable coverage, your Kapnick Insurance Representative can help you determine which insurance policy is right for you.
---