---
The holidays are upon on us, and firefighters say that the greatest number of home cooking fires occur on Thanksgiving Day, which is only 1 week away! As a property management company you literally have hundreds or even thousands of home kitchens preparing holiday meals on the same day at or around the same time.
Some of the top causes are:
8% - accidentally left cooking equipment on
9% - product misuse
10% - heat source too close to flammable materials
11% - abandoned material
28% - other
34% - unattended equipment
DATA SOURCE: NATIONAL FIRE PROTECTION ASSOCIATION


DOWNLOAD A FIRE PREVENTION IMAGE FOR YOUR PROPERTY (pie inspired)
---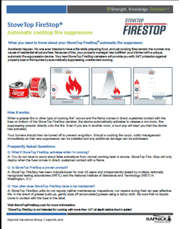 Yes I want to download the full document.
Get it now!

---
Cooking fires remain the number one cause of residential structure fires, with unattended cooking cited as the leading cause of these fires. According to the National Fire Protection Association (NFPA), every year cooking-related fires cause an estimated:
▪ 222,135 reported home structure fires
▪ 12,344,000 (55.3%) of unreported home fires
▪ 7,891 injuries
▪ An estimated $362 million in direct property damage

There is a solution – one that can ultimately help prevent property damage and loss of life. It's called the StoveTop FireStop® automatic fire suppressor. Known for being inexpensive and invaluable, it is recommended by fire chiefs and prevention experts nationwide as the first line of defense against stovetop fires. When properly installed, the StoveTop FireStop® has been shown to reduce claims by an average of 99%. ULTIMATELY THE CHOICE IS YOURS. BE PROACTIVE OR RISK IT.

StoveTop Fire Stop® Fast Facts
▪ A 12-ounce automatic fire suppressor
▪ Mounts using an industrial magnet under the vent of a stove
▪ Reacts automatically when flames reach it
▪ Fire suppressing powder automatically releases onto the fire
▪ Alerts with a 146 decibel "POP" sound
▪ Deploys in seconds
▪ Requires no tools to install
▪ Never has to be inspected or repaired


Watch this video and learn how a property using StoveTop Fire Stop® saved lives and their complex!

---
Talk to your trusted Kapnick insurance representative today and find out how you can protect your property…and receive special pricing on the StoveTop Fire Stop®
Talk with a specialist today!
888.263.4656 x1204 Micah Teets | Client Executive
---